We are a registered charitable trust and could not operate without the generous support and funding of our valued sponsors, including…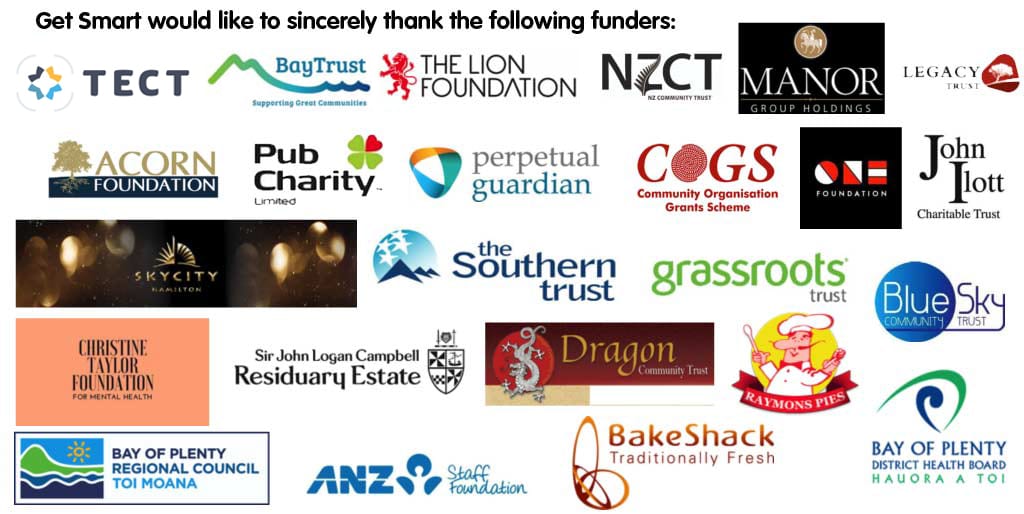 DHB
The Bay of Plenty District Health Board serves our population of 225,320 in and around Tauranga, Katikati, Te Puke, Whakatane, Kawerau and Opotiki. BOPDHB is our cornerstone and founding sponsor.
Bay Trust
BayTrust is one of our major community funding organisations, distributing a fund of approximately $200m to valuable charitable trusts and organisations such as ours throughout the region.
Acorn Foundation
The Acorn Foundation has just over $23m in funds under management with Craigs Investment Partners, established largely from endowments that leave money to the community when they die. We are very fortunate to be one of many recipients of this generous fund.
TECT
TECT has distributed $440 million direct to trust beneficiaries, and over $120 million in grants to our community since it was established in 1993. We appreciate the on-going funding we have received from TECT since Get Smart was established.
Pub Charity
Pub Charity Limited distributes donations to worthy community organisations all over New Zealand through the funds raised in gaming machines hosted in our member hotels and taverns.
Perpetual Guardian
Guardian Trust is the preferred corporate trustee for many of New Zealand's leading corporations, financial institutions, fund managers and banks.
The Lion Foundation
The Lion Foundation is one of New Zealand's oldest and most respected Charitable Trusts. Since 1988, they have returned over $850 million back to the community, supporting thousands of good causes all around New Zealand.
COGS
The Community Organisation Grants Scheme provides government-funded grants to support voluntary and not-for-profit organisations working in local communities and neighbourhoods.
NZCT (NZ Community Trust)
Every year, NZCT give millions of dollars in grants to thousands of applicants from a huge range of sporting groups – from rugby and netball to kayaking and lawn bowls. They are proud to be the largest funder of amateur sports participation in New Zealand.
Manor Group
Manor Group Investments is a Tauranga Based retirement and property services company. Since 1988 it has owned and operated various retirement care and living businesses, including rest home, hospital and serviced retirement units.
Skycity Hamilton
SKYCITY Hamilton is an entertainment complex and casino in the heart of Hamilton's CBD. Their Community Trust is proud to contribute to the local community by supporting many worthy organisations, both large and small.
One Foundation
One Foundation (formerly First Sovereign Trust Limited) was established in 2004 to distribute grant funding from the proceeds of licensed gaming machines. We distribute grants across the Education, Sport, Arts, Community and Culture and Heath and Welfare sectors.
BakeShack
Located in the heart of Mount Maunganui, The BakeShack has been serving up delicious traditional baked goods to locals and visitors alike for over 16 years.
Raymons Pies
Raymons Pies sell direct to the public from onsite, and are pie experts in creating meat pies, savouries, fruit pies, quiche, slices and custard squares.
IF YOU OR YOUR BUSINESS IS INTERESTED IN BECOMING A SPONSOR, PLEASE CONTACT US HERE.
LET'S HAVE A CHAT…
Take the first step. Enter your details below and we will contact you Monday – Friday between 8.30am – 4.30pm.